LASER HAIR REMOVAL TREATMENTS FROM ABC LASERS
New Laser Zaps Hair Without Pain
14/07/2009
Americans spend billions each year on hair removal products, from razors to waxes and creams. But, now a new "pain-free" way exists to get smooth skin forever. A few zaps and unwanted hair disappears. Patients say that they "don't even feel it."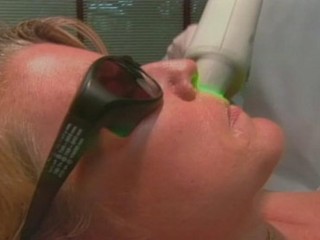 hristine Dimming had the hair on her upper lip removed in minutes and it was gone forever. She also had the hair under her arms removed, which means less time in the shower. Christine says, "in the shower I start with the underarms, bikini, legs. It's a process I do every day."

Dermatologist Victoria Cirillo Hyland says the new laser called Soprano hits all the right notes. With rapid fire pulses it destroys hair follicles without pain, "a patient feels less pain because the energy is lower per pulse."

The pain free aspect is what makes the laser unique. Otherwise, it largely works like other permanent hair removal devices already on the market. But, with those you can feel it.

James Southworth wanted rid of the hair on his back. First, he got a few zaps with an old laser, which he described as "feeling like pins and needles."

Getting the Soprano, however, Southworth felt warmth, but no pain.

Now Southworth is finally looking forward to taking his shirt off without being embarrassed. He also thinks that he might get a tan for once.

Christine is also pleased with her results.

Patients usually need at least two sessions with the Soprano. Each session costs around $600. The new laser is now available in 14 states and its makers expect the market to expand.

SOURCE: CBS Broadcasting Inc